Adele on Vogue March 2012
On the last Grammys, she took home 6 awards and took everyone's breath away with her stunning rendition of her song "Rolling in the Deep". Well she's none other than but……..
                                            ADELE!!!!!!!!!!!
She is responsible for the songs, "Someone Like You", "Turning Tables" and many more that makes us all fall in love with her.
Now she's not only a singer that everyone loves but as well as a cover girl that can make us all just stop and stare. She already graced a lot of magazines such as…….
Cosmopolitan Dec 2011
Q's 300th issue Magazine
Billboard 2011
Glamour UK July 2011
Elle Quebec Sept 2011
Fair Lady
Rolling Stone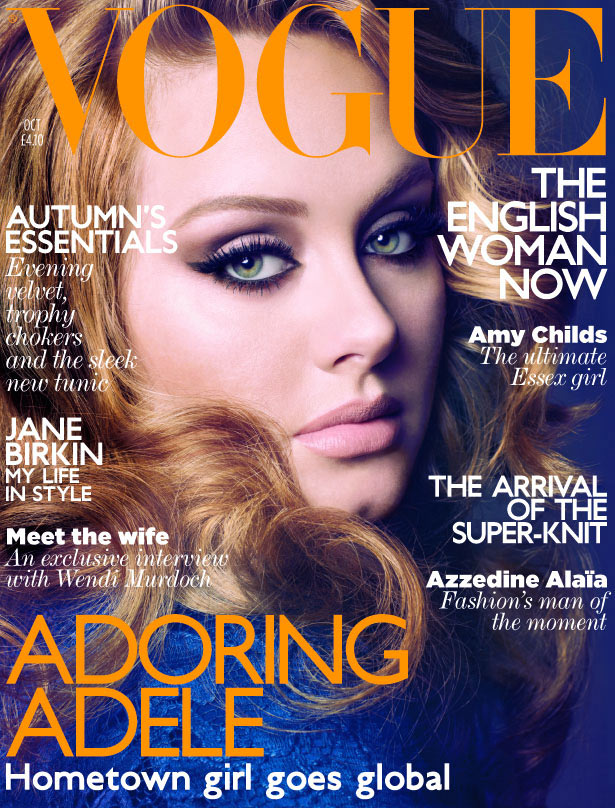 Vogue Oct 2011
She maybe not as sexy as the Victoria's Secrets Models are…but her curves is just perfect to make waves. She's undeniably gorgeous in her own aspect.
From all that gorgeous covers above, she's now gracing again a magazine and her 2nd time for Vogue. She's Vogue March 2012 covergirl.
Vogue March 2012 - Adele on the cover
One of her best cover to date! She's a striking and so stunning here. The hair volume is lovely and the make-up as well.
Now I take you inside this issue to see why Vogue chose her to be their March muse. Here it goes….
So love this close-up shot! Her face is angelic!
Voluptous curves!!
Soulful photos coming up…
MY FAVORITE PHOTO!!!!!!! LOVE! LOVE! LOVE!
She really made me so stunned and so proud with her spread on the March issue of Vogue! Well I would surely buy one! That's for sure! Its my birthday month! Just a perfect treat! Once I found one on the newsstands, Ill grab one!
I LOVE YOU ADELE FOREVER!!!! Classic, flawless and gorgeous beauty of her own! She's already took the world and now ready to conquer the universe! Go gir! See you soonest here in the Philippines!!! We are all so hyped and excited to see you!!
To end this post, watch her stunning and breathtaking performance during the recently ended Grammys that made her earned a standing ovation! Here's the link! http://www.youtube.com/watch?v=q2-5sJdOVpQ Enjoy!
Hugs and Love,
Yanyan xx ♥
5 Notes/ Hide
gunnierunner14 reblogged this from iamyan2xavila